Construction waste removal
Please select the desired region for receiving services!
All
Ādaži
Aglona
Aizkraukle
Aizpute
Aknīste
Aloja
Alsunga
Alūksne
Amata
Ape
Auce
Babīte
Baldone
Baltinava
Balvi
Bauska
Beverīna
Brocēni
Burtnieki
Carnikava
Cēsis
Cesvaine
Cibla
Dagda
Daugavpils
Dobele
Dundaga
Durbe
Engure
Ērgļi
Garkalne
Grobiņa
Gulbene
Iecava
Ikšķile
Ilūkste
Inčukalns
Jaunjelgava
Jaunpiebalga
Jaunpils
Jēkabpils
Jelgava
Jūrmala
Kandava
Kārsava
Ķegums
Ķekava
Kocēni
Koknese
Krāslava
Krimulda
Krustpils
Kuldīga
Lielvārde
Līgatne
Limbaži
Līvāni
Lubāna
Ludza
Madona
Mālpils
Mārupe
Mazsalaca
Mērsrags
Naukšēni
Nereta
Nīca
Ogre
Olaine
Ozolnieki
Pārgauja
Pāvilosta
Pļaviņas
Preiļi
Priekule
Priekuļi
Rauna
Rēzekne
Riebiņi
Rīga
Roja
Ropaži
Rucava
Rugāji
Rūjiena
Rundāle
Sala
Salacgrīva
Salaspils
Saldus
Saulkrasti
Sēja
Sigulda
Skrīveri
Skrunda
Smiltene
Stopiņi
Strenči
Talsi
Tērvete
Tukums
Vaiņode
Valka
Valmiera
Varakļāni
Vārkava
Vecpiebalga
Vecumnieki
Ventspils
Viesīte
Viļaka
Viļāni
Zilupe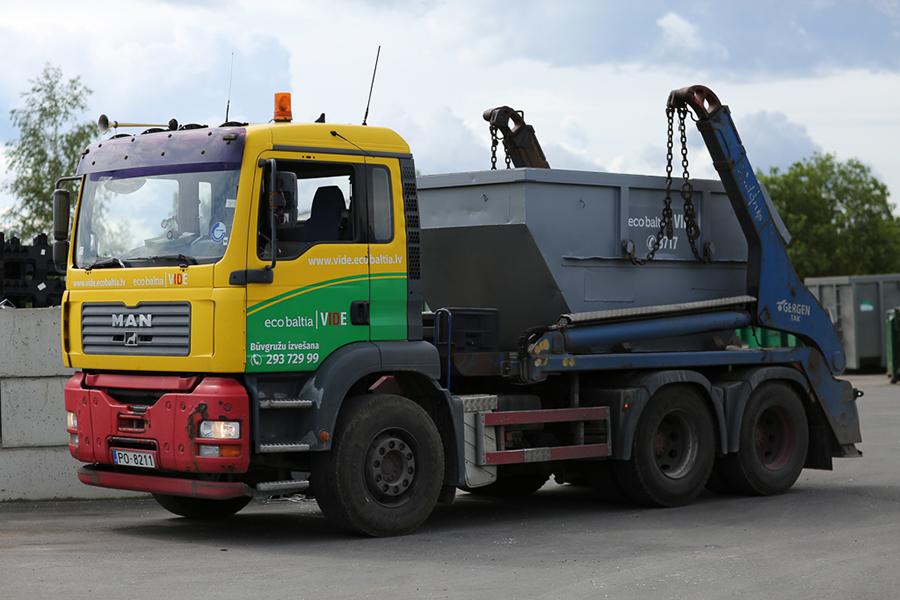 LLC "Eco Baltia vide" ensures collection and disposal of any volume of construction and bulky waste. High-capacity containers are used for the collection of construction waste, which are transported by specialised transport.
Containers suitable for large quantities of construction waste and intended for large and heavy waste, for use on construction sites and in places where extensive repairs are carried out are available. In turn, debris bags are a good solution for smaller construction waste volumes.
In construction waste container, it allowed to throw:
construction waste from construction / reconstruction (concrete, cement and reinforced concrete structures, bricks, tiles, ceramics and plaster materials, timber, etc.)
waste of building materials production
waste from cleaning of territories: tree branches, shrubs, old leafs, grass, etc.
street repair waste, i.e., solid waste arising from the renovation of street pavement
grounded soil, that are no longer usable at this site
In construction waste container, it is not allowed to throw:
tyres
slate
oils
fluorescent lamps, thermometers
accumulators, batteries
aerosols, chemicals, paints and their packaging.
Construction waste container rent
Container delivery and waste removal take place at a convenient day and time for the client according to a pre-agreed schedule. It is important to order a container of a suitable size to prevent the container from being half empty or chock-full. The container for construction waste is an open or closed metal structure.
All construction waste containers meet the requirements of the European Standard EM 840-3.
Apply for a free consultation with specialists from LLC "Eco Baltia vide" to agree on the amount and costs of exportable waste so the construction waste removal would be smooth.
For smaller construction waste volumes, another solution is debris sacks Big Bag!  
Big Bag sack is made of polypropylene, it is lightweight and durable, ideally suited for minor repairs or simply cleaning the household.
Volume of the sack is 1m3, durability (400–600 kg). The sack should be placed as far away from power lines as possible and accessible to a car with a manipulator at least 3 meters away.
It is not allowed to place in sack: liquid waste, hazardous waste and hot ash.
Big Bag price list available here: BIG BAG PRICE LIST
Contact information
| | |
| --- | --- |
| Ieva Kārkliņa  | +371 27894555 |
Gallery