Waste electrical equipment collection
Ādaži
Aglona
Aizkraukle
Aizpute
Aknīste
Aloja
Alsunga
Alūksne
Amata
Ape
Auce
Babīte
Baldone
Baltinava
Balvi
Bauska
Beverīna
Brocēni
Burtnieki
Carnikava
Cēsis
Cesvaine
Cibla
Dagda
Daugavpils
Dobele
Dundaga
Durbe
Engure
Ērgļi
Garkalne
Grobiņa
Gulbene
Iecava
Ikšķile
Ilūkste
Inčukalns
Jaunjelgava
Jaunpiebalga
Jaunpils
Jēkabpils
Jelgava
Jūrmala
Kandava
Kārsava
Ķegums
Ķekava
Kocēni
Koknese
Krāslava
Krimulda
Krustpils
Kuldīga
Lielvārde
Līgatne
Limbaži
Līvāni
Lubāna
Ludza
Madona
Mālpils
Mārupe
Mazsalaca
Mērsrags
Naukšēni
Nereta
Nīca
Ogre
Olaine
Ozolnieki
Pārgauja
Pāvilosta
Pļaviņas
Preiļi
Priekule
Priekuļi
Rauna
Rēzekne
Riebiņi
Rīga
Roja
Ropaži
Rucava
Rugāji
Rūjiena
Rundāle
Sala
Salacgrīva
Salaspils
Saldus
Saulkrasti
Sēja
Sigulda
Skrīveri
Skrunda
Smiltene
Stopiņi
Strenči
Talsi
Tērvete
Tukums
Vaiņode
Valka
Valmiera
Varakļāni
Vārkava
Vecpiebalga
Vecumnieki
Ventspils
Viesīte
Viļaka
Viļāni
Zilupe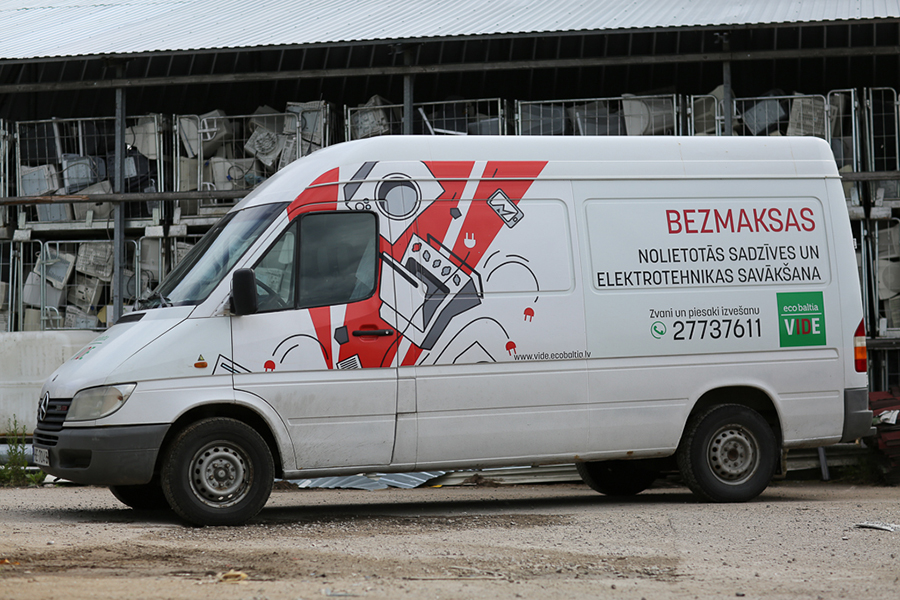 LLC "Eco Baltia vide" offers free collecting and removal of any kind of used and ineligible household and electrical equipment – washing machines, televisions, refrigerators, cookers, computers, monitors, telephones, etc.
The service is available in Riga city , Mārupe, Ādaži, Babīte Parishes  and Salaspils Municipality. Both individuals and legal entities can apply for the collection and removal of electrical equipment.
Due to the state of emergency declared in the country due to Covid-19, the collection of electronics takes place in a non-contact manner. On the day of its removal, all the submitted equipment must be placed outside the building and the fenced area, in a place freely accessible to the employees of SIA "Eco Baltia vide"! In apartment buildings with a lift, electrical equipment must be taken out of the stairwell or in the courtyard.
Free removal of electronics is provided from the applicant's address from building's main entrance.
Electrical equipment to be collected must be unbroken, for example, refrigerator must have a compressor, a TV-set has to include a kinescope, a computer has to include a motherboard, etc.
Gallery