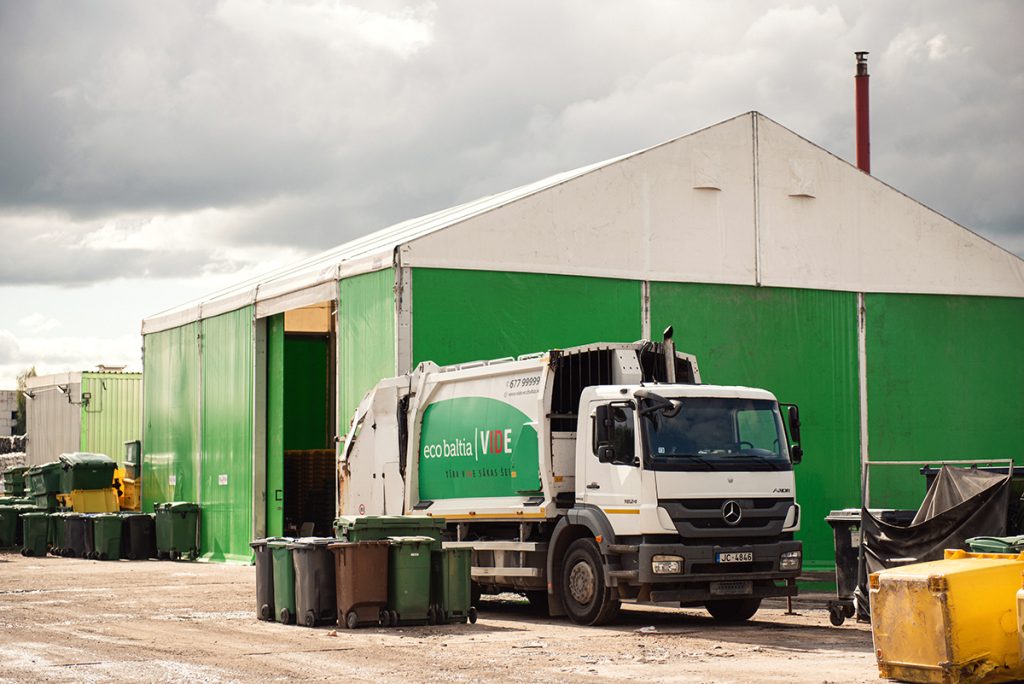 Eco Baltia vide LTD (SIA) increased its turnover by 44% last year and continues its steady growth
The environmental management company Eco Baltia vide LTD (SIA) closed last year with a turnover of EUR 49.32 million, which is 44% more than in 2021. The increase in turnover was mainly driven by the development of new environmental management services and an increase in recycling sorting capacity. The company has invested heavily in expanding its range of services and improving its sorting and recycling infrastructure.
At the end of 2022, Eco Baltia vide LTD (SIA) provided municipal and sorted waste services in 17 regions of Latvia. As the company's main activity is sorting and recycling of secondary raw materials, last year almost a third or more than 30% of the waste managed was reused or recycled. In line with the company's development and sustainability strategy, this volume is increased every year.
The company has also invested substantially in its development. EUR 1.8 million were invested in the renovation and extension of the fleet, while EUR 1.13 million were invested in the creation of a specialised construction waste sorting yard, where investments will continue later this year. At the end of last year, a decision was also taken to develop a new waste sorting plant in the Pierīga region, with a total investment of around EUR 11 million. More than half of these are for the purchase of equipment.
In 2022 the company's Eco Baltia vide LTD (SIA) profit was down by 8%, to EUR 5.5 million, partly due to last year's reorganisation, when several other subsidiaries of the Group, Eco Baltia JSC (AS), were merged into the company.
"Despite the extremely high inflation, last year we continued to implement our development strategy by developing availability of secondary raw materials, sorting infrastructure, and increasing our competence in management, sorting and recycling of secondary raw materials. We are committed to developing a wide range of environmental management services and investing in new ones. One of our most successful innovations in the market is the rental and servicing of portable toilets under the Tōcha brand, but we have also been actively working on developing a sorting infrastructure and launching new services," says Jānis Aizbalts, Chairman of the Board of Eco Baltia vide LTD (SIA).
In 2022, Eco Baltia vide LTD (SIA) in cooperation with Latvijas Zaļais punkts LTD (SIA) expanded the infrastructure for separate collection of textiles, providing 170 containers in 30 municipalities in the first months of 2023. Given the relatively high costs of textile management and sorting, as well as the fact that Latvia still does not have a producer responsibility system (PRS) for textiles, in autumn 2022 a decision was taken to stop sorting textiles in the Tukums branch and to provide the entire sorting process in the sorting centre of the cooperation partners in Riga. This has made logistics more efficient and cost-effective, so that we can continue to invest in infrastructure development and access to the textile sorting service for citizens. Last year, a total of 1,568 tonnes of textiles were placed in the textile sorting containers provided and managed by the company, 98% of which were reused or recycled.
Last year, cooperation was also developed with UAB Ecoservice, a subsidiary in Lithuania, which acquired UAB Mano Aplinka Plius, a liquid waste management company. It provides services such as oil and fuel tank cleaning, oil and other natural waste management and collection equipment maintenance, sewage disposal, pipeline flushing and emergency response to various liquid waste spills. With the acquisition of UAB Mano Aplinka plius, additional investments in sewage management, road cleaning and maintenance services, as well as recycling technologies are planned for this year in both Lithuania and Latvia.
The development of the construction waste sorting site is also continuing this year. Construction waste sorting will also be developed in the branch in Liepāja and in Lithuania, where the subsidiary UAB Ecoservice has set up a new line for sorting construction waste. The new waste sorting plant project will also be continued and the plant is expected to be operational in the first half of 2024, sorting waste from the Pierīga region managed by the company.
Another priority for this year is the development of a Sustainability Strategy, including for subsidiaries in Latvia and Lithuania, taking into account the UN Sustainable Development Goals.
In 2023, the company will continue to boost productivity. The working environment and safety will remain a priority, and we plan to invest in both improving common areas and employee satisfaction.