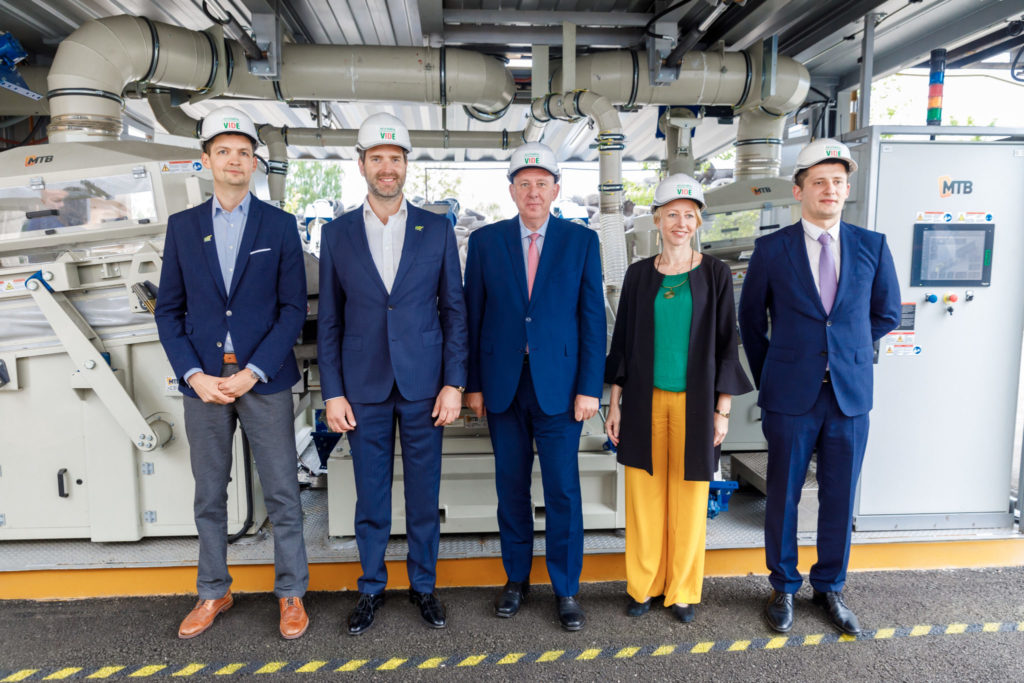 SIA "Eco Baltia vide" invests EUR 2.6m and establishes a tyre recycling plant in Tukums — the most modern such facility in the Baltics.
The new tyre recycling plant will recycle at least 6.5 thousand tonnes of tyres every year.
The environmental management company of "Eco Baltia grupa" – SIA "Eco Baltia vide" has invested 2.6 million euros and established a new mechanical tyre recycling plant in Tukums, which is the most modern such facility in the Baltics. It is projected that the new plant will recycle at least 6.5 thousand tonnes of tyres, mainly collected throughout Latvia, annually. By gradually increasing production capacity, it is expected that the plant will be able to process up to 10 thousand tonnes of worn tyres annually in the next two years. The volume of tyres recycled at the plant will help reduce 26 600 tonnes of CO2 emissions each year, which is equal to the annual electricity consumption of 4200 households.
The new SIA "Eco Baltia vide" plant is the first such facility in Latvia and one out of only few such plants in Europe, which is also equipped with the most modern tyre recycling units available on the market. These units minimise and eliminate various potential risks of pollution and ensure energy-efficient and environmentally friendly production processes. In case of necessity, the facility is also transportable.
Chairman of the board of SIA "Eco Baltia vide", Jānis Aizbalts states: "One of the cornerstones of circular economy is the process of recycling waste into new raw materials. The tyre recycling plant created by SIA "Eco Baltia vide" will also serve as an important contribution in the context of Latvia's environmental well-being and economic development. The plant will help ensure that we can efficiently and sustainably process the tyre waste generated in Latvia into new raw materials, thus giving them new value, rather than leaving them in the environment or landfills. Furthermore, the technologies we use will also allow recycling electrical cables in the future, which is a new waste recycling direction in Latvia."
During the process of recycling, the tyres will be shredded into small strips and transferred for further recovery to be used as fuel for energy production in special furnaces, thus reducing the use of newly acquired fossil fuels. In addition, the processing procedure will involve separating metal and textile from tyre rubber, to produce crumb rubber of varying roughness. The produced crumb rubber will serve as raw material for manufacturing new products e.g. rubber surfacing for playgrounds and football fields, components for asphalt-bituminous mixtures, etc. The projected product sales include both domestic sales and export.
 "The economic situation and trends are changing, so it is crucial for entrepreneurs to adapt and find ways to manage their market principles-based businesses in a way that does not consume resources but instead create them. It's high time Latvia approached the model of circular economy, and tyre recycling is an excellent example how the pollution of Latvia's nature by products that require a challenging recycling process can be minimised," the parliamentary secretary of the Ministry of Economics, Jurģis Miezainis points out.
According to a study conducted last December by the Ministry of Environmental Protection and Regional Development, there is currently a total of 105 thousand tonnes of worn tyres accumulated in Latvia.
 "It is welcome news that experienced waste management operators, who focus on long-term economic activities, are investing in waste treatment facilities. Unfortunately, up until now, the lack of knowledge and experience, as well as the inability to attract investment have only led to unsuccessful experiments that tend to close within a few years with no results whatsoever. It is expected that the new SIA "Baltia Eco vide" recycling plant will play a crucial role in the life-cycle of tyres in Latvia and will probably open up new, unprecedented recycling opportunities that will help dispose of several decades' worth of worn tyres. The recovery process is an integral part of the tyre lifecycle, therefore it is essential to ensure, if possible, that this task is addressed by domestic companies for better traceability and to avoid relying on foreign recycling plants. By increasing the recycling capacity of local businesses, we will benefit from the increase in economic activity and the newly acquired order in the worn tyre lifecycle," the General Director of SES, Elita Baklāne – Ansberga explains.
"We are very pleased that "Eco Baltia grupa" has expanded and diversified its scope and can now proudly boast a new waste recycling plant. Until now, we have recycled various types of polymer packaging, but now we can also make ourselves known as recyclers of tyres and rubber. The need for such recycling plants is illustrated by numerous illegal tyre dumps throughout Latvia; this creates new, local recycling opportunities. Moreover, given that several Asian countries have already announced a ban on unprocessed waste imports, Latvia will have to increasingly develop its waste recycling capacity and facilities in the future, therefore we are proud of our leading role in this industry," chairman of the Board of SIA "Eco Baltia vide", Māris Simanovičs expresses.
The factory will mainly recycle tyres collected from Latvian companies and individuals. "Work is underway, so that a worn tyre collection point in Tukums, Dienvidu iela 2 could start functioning according to all regulatory enactments by autumn, ensuring tyre collection from the residents of the Tukums municipality. This means that each year every individual will have the opportunity to deliver one set of passenger car tyres (i.e. 4 tyres) for recycling at our factory free of charge," J. Aizbalts explains.
Seven new job positions have been created by the new "Eco Baltia vide" tyre recycling plant; this number is expected to increase in the future.
"The establishment of a new tyre recycling site in Latvia is a welcome step towards improving the worn tyre management process, including transparency and traceability of recycling, which have so far proven problematic at a systemic level. New jobs created by this initiative and its potential contribution the state budget in the form of taxes also should be considered. The state, in its turn, should strengthen its monitoring measures related to recycling sites abroad, which are managed by local waste management companies. This will decrease the number of incidents, when the tyres that are allegedly being recycled in India or Lithuania are in fact littering Latvia's forests, or even worse — the centre of Riga," the director of the Latvian Tire Management Association, Tīna Lūse points out.
About SIA "Eco Baltia vide":
SIA "Eco Baltia vide" is an environmental management company that provides the services of waste management, cleaning of premises, road maintenance, sorting and sales of secondary raw material, as well as tire recycling. In 2018, SIA "Eco Baltia vide" reached a turnover of EUR 16.35 million. The company has 290 employees. SIA "Eco Baltia vide" is a part of "Eco Baltia grupa", which is the largest environmental management group in the Baltics based on turnover; the group ensures a full waste management cycle — from collection to recycling.